DJ Khaled 'God Did' Has More To Offer Than Just The Fine JAY-Z Verse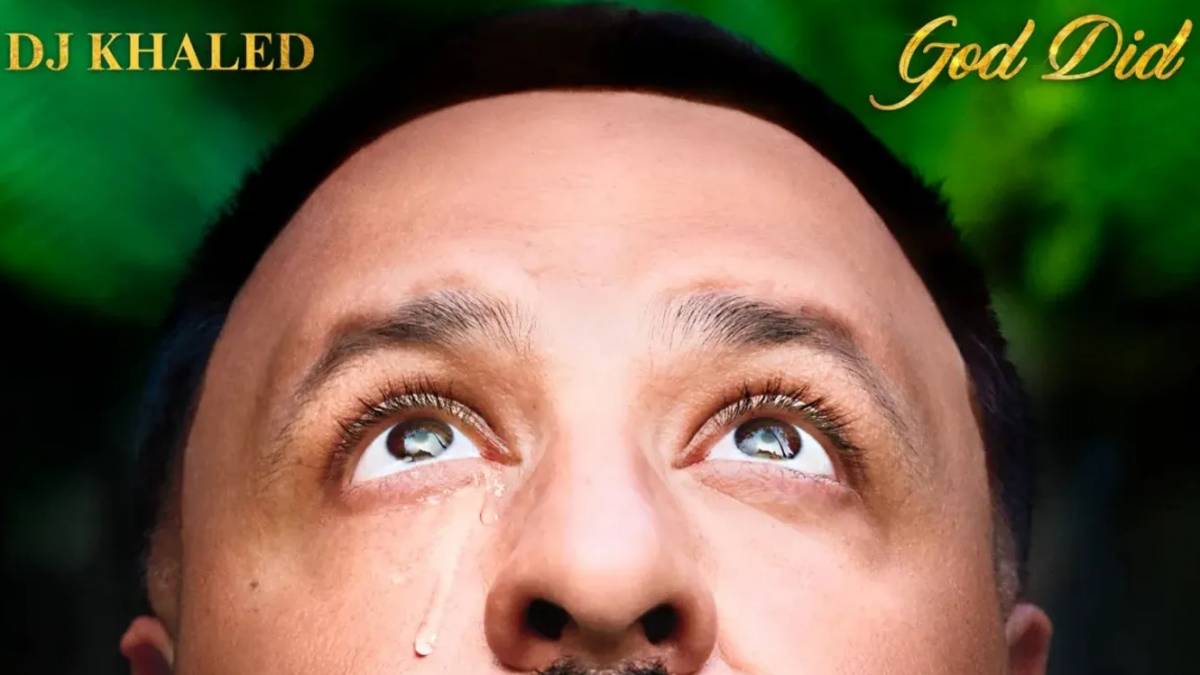 DJ Khaled 'God Did' Has More To Offer Than Just The Fine JAY-Z Verse
66
Coming into his 13th album, God Did, DJ Khaled had nothing to prove except for an ability to make a decent album. He conquered the charts, radio and social media, but year after year he pumped out expensive garbage. Despite boasting a major key, he could never unlock the secret to effective curation within rap music. But, he seems to have figured it out on God Did, the best possible scenario for using the Khaled method, as well as one of the most well constructed albums the 46-year-old record executive has ever released.
As with any Khaled project, God Did feels more like a playlist rather than an album, as a collection of shiny parts rather than one jewel. But the sum of those parts shine brighter than previous offerings, harkening back to Khaled's late '00s-early 2010s glory days.
Some of the highlights are so good, it's almost incomprehensible that they're DJ Khaled songs. On "PARTY," the interplay between the brash acrimony of Quavo and Takeoff, and the sweet sadness of the beat (a slowed and reverb-heavy flipping of the Eddie Murphy one hit wonder "Party All The Time") creates a bitingly serene track. "BEAUTIFUL" finds Future at his most compelling and likable, with two excellent verses separated by a grand chorus from SZA. Another highlight, "WAY PAST LUCK," displays 21 Savage's effortless talent to carry a song like he's facing a full squad by himself on Call of Duty search & destroy. He deftly surfs on a sample dug from the crates of the seraphim. "JUICEWRLD DID" is one of the most natural posthumous tracks this year, and reminds everyone that we lost a generational talent, which is a reminder that no one needed, but everyone could use.
Somewhere between the inspired tracks above and the good yet forgettable ones below lies "God Did," the much-discussed posse cut that collects 75% of a Rick Ross verse, an excellent Lil Wayne verse, and five or six JAY-Z verses into a rain barrel made of three piano keys, an autotuned chorus made in Fridayy's bedroom and a stodgy drumline that gets so bored over the 8-minute runtime that it only deigns to be there for about 60% of it. JAY-Z stans jumped on the opportunity to herald the greatness of his ramblings, and admittedly, it's a much better offering than his geriatric, out of touch verse on "Jail." Aside from some small slip ups, the rest is straight BARS.
Even though there's more highlights than recent memory, there's still some mid that holds this project firmly back. Lil Baby collects his checks on "BIG TIME" and "STAYING ALIVE," alongside Future and Drake respectively (neither of whom dazzle) and then goes straight home, delivering workmanlike bars over hard hitting beats that we've heard dozens of times. For Roddy Ricch's part, "KEEP GOING" is five times more aggressive than most tracks on the album, and any merits it may have are lost by it being so rudely misplaced. "Fam Good, We Good" has an excellent chorus, which is apparently why it gets repeated six times and takes up 80% of the song. This makes for a monotonous listening experience.
"LETS PRAY," despite strong performances by both leads, is likely the worst Travis Scott/Don Toliver song yet, due to a vanilla beat that is just not worthy of the pairing. Latto drops three great verses and a strong chorus on "Bills Paid," but both City Girls feel shoehorned into a track that really did not need them. "IT AIN'T SAFE" tries to harness Nardo Wick's menacing taunts, but his whispers come off more like Khaled woke him up too early.
Then, there's some real head-scratchers. The very existence of "USE THIS GOSPEL – REMIX" is baffling, but its placement on a DJ Khaled album (a devout Muslim) just defies all reason. It doesn't help that trading Clipse for Eminem makes the track sound more like a parody, rather than an earnest showing of faith. The "JADAKISS INTERLUDE" sounds like it was recorded in a different century and just recently recovered, and "THESE STREETS KNOW MY NAME" invites a slew of Jamaican dancehall/reggae artists to the party and forces them to rap over the worst beat on the album. These experiments distract from the gems, making the album more misses than hits.
God Did is an extremely expensive album that revels in exclusivity and never goes deeper than the dance floor. But, DJ Khaled finally stopped trying to make everyone happy (Justin Timberlake is blessedly not present) and perfected his approach of throwing money at the problem until the problem goes away. It's an unexpectedly, confusingly good collection of rap songs.
REPEAT ME
FAN FEEDBACK
Dj Khaled gotta be money laundering because how does he pay for all of those album features

— kira ? (@kirawontmiss) August 26, 2022
Jay Z on God Did: These ain't songs, these are hymns 'cause I'm him
It's the Psalm 151, this New Testament
The book of HOV
Jesus turned water to wine, for HOV it just took a stove
You never know how this shit could go #GODDID #JAYZ #DJKHALED pic.twitter.com/VnvaQ7JDZm

— nicifyb (@NiciFYB) August 26, 2022
Drake only giving DJ Khaled 47 seconds on "No Secret" #GODDID pic.twitter.com/FnvJT5S6KN

— Fun Guy (@FunGuyBurner) August 26, 2022
DJ Khaled, Lil Wayne, Jay Z, Rick Ross, John Legend, and Fridayy on God Did pic.twitter.com/aQIBhUZxgN

— Aden Norton (@AdenNorton2) August 26, 2022
Another year, another trash DJ Khaled album pic.twitter.com/JkfFOZ0INM

— Sport (@BeenRichSport) August 26, 2022