Chlöe Announces Partnership With Pepsi, Shares Remake of 1984 Classic 'Footloose'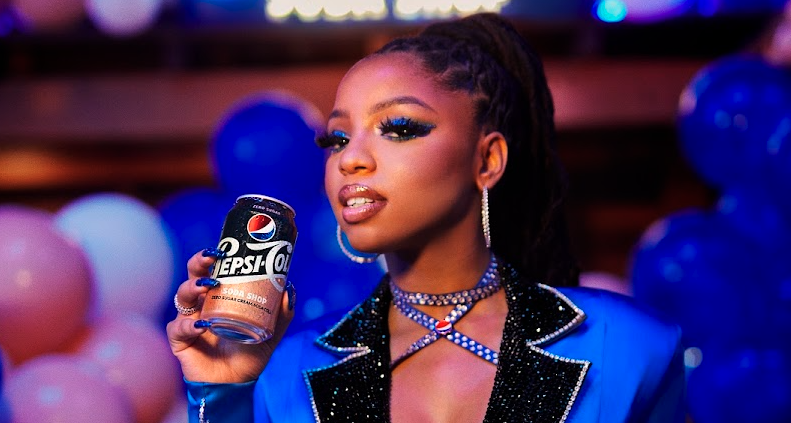 Chlöe Announces Partnership With Pepsi, Shares Remake of 1984 Classic 'Footloose'
78
Chlöe has teamed up with Pepsi® to help relaunch its Pepsi-Cola Soda Shop.
The campaign, a nod to classic soda shop flavors, introduces a new limited-edition flavor, Zero Sugar Cream Soda Cola. Two other returning flavors include Cream Soda and Black Cherry.
"This collaboration with Pepsi is a dream come true. I'm so excited to partner with such an iconic brand with a rich history in music and follow in the footsteps of so many renowned female artists who have been part of the Pepsi family for decades," says Chlöe.
As part of the campaign, Chlöe records a new version of "Footloose," an immortal tune taken from a 1984 film of the same title. The original version, certified platinum, was performed by movie soundtrack legend Kenny Loggins.
"Footloose" arrives with an accompanying visual. Directed by Hannah Luxe Davis and choreographed by Sean Bankhead, the video finds Chlöe reimagining the role of the main character from the 1984 film in a diner.
"I'm thrilled to have the opportunity to re-create the fun, beloved track, 'Footloose,' through my creative lens and I hope everyone finds something to love in this modern take on a classic," Chlöe adds.
The visual for "Footloose" will get a bigger push, when it is shown during season 48 of NBC's Saturday Night Live.
Todd Kaplan, Pepsi's chief marketing officer, says, "Pepsi-Cola Soda Shop is a unique take on the indulgent and nostalgic flavors that harken back to the early days of cola, and we couldn't be more excited to bring this product back for another year – this time with a delicious Zero Sugar Cream Soda Cola flavor as well."
View this post on Instagram
Kaplan adds, "To celebrate this 'Modern Take on a Classic,' we thought that Chlöe was the perfect musician to work with to reimagine the iconic classic song 'Footloose' with this unapologetically fun music video.
With her unique vocals, energetic dancing and unequaled stage presence, Chlöe is a dynamic musician who took this project to another level – and with the choreography of icon Sean Bankhead, we think this music video is going to have fans – new and old – unapologetically enjoying as they watch and participate on TikTok."
Pepsi and Chlöe fans, along with dance enthusiasts, can get in on the action of this campaign on TikTok and Instagram by using the hashtags #PepsiSodaShop and #PepsiSweepstakes, from Oct. 7 through Oct. 16.
Uploads of dance videos will have a chance to win autographed items from Chlöe, including signed posters and the signed dancing shoes she wore in the video, to name a few. Get more information on how to participate by following Pepsi on TikTok and Instagram.
In other Chlöe-related news, she is still hard at work on her self-titled debut solo album that will be released via Parkwood Entertainment / Columbia Records. It will include the previously released singles, "Surprise," "Treat Me" and "Have Mercy."
The latter track, which she co-produced alongside Murda Beatz, went to No. 1 on urban radio. It marked her first chart-topper on that radio format. The RIAA also certified the single gold, with more than 500,000 equivalent units sold.
Chlöe recently collaborated with Spotify for its Spotify Singles series, where she remade Adina Howard's 1995 classic "Freak Like Me." She also joined Ari Lennox for her sophomore album, age/sex/location.
Watch Chlöe and Pepsi-Cola Soda Shop's "Footloose" short film.