Chanté Moore and Stephen Hill Get Married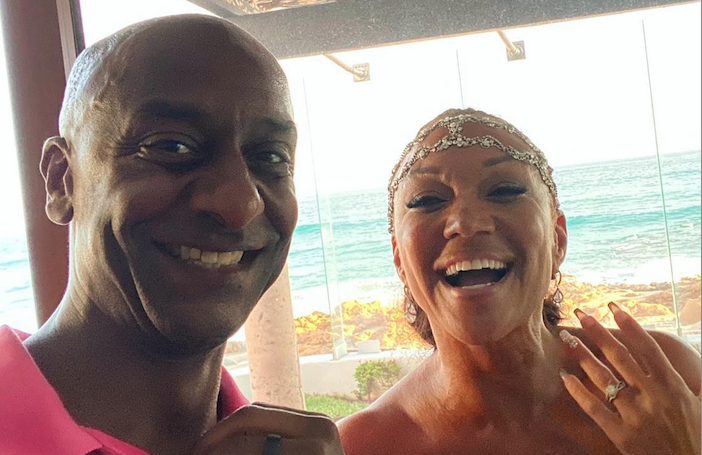 Chanté Moore and Stephen Hill Get Married
41
R&B veteran Chanté Moore and former BET President of Programming Stephen Hill officially tied the knot on Saturday, Oct. 22.
Moore shared a photo of her in her bridal gown, designed by Galia Lahav, as well as a photo of her new hubby.
"Welcome to always… @stephengranthill," she wrote in a caption.
View this post on Instagram
Hill wrote on Instagram, "Been waiting for this day. A long time. Appreciating and accepting all positive energy and thoughts today (ain't gotta write 'em, just send 'em)."
He added, "I promise that we have enough love to radiate them back to you amplified."
View this post on Instagram
The couple announced their engagement on Oct. 26, 2021, while on vacation celebrating Hill's 60th birthday.
They both shared a sweet message on their respective Instagram accounts.
"I couldn't think of a better way to say~ what love, peace and joy I feel~ because of you @stephengranthill. There are mountains, valleys and hidden coves, full of treasures I've never seen before … that are pouring out of your heart," Moore wrote.
"Thank you for showering me with more than I ever expected!! Happy Birthday and I love you! Who knew 30 years ago~ through many chance meetings… we would end up H E R E!?!? But, here we are…. WE will enjoy OUR gift of the 'PRESENT!'"
View this post on Instagram

"This has been my best year ever and the continuation of that best is just beginning. Selebrating [sic] a solar spin today and am brand new," Hill wrote.
"After 21,915 days…this ol' heart is skipping the right beats on the regular. May you, right now, at whatever age you are, feel as strong, vibrant and in love as I am right now…at 60. Best birthday ever. I love you."
View this post on Instagram
Moore was previously married to actor Kadeem Hardison and singer Kenny Lattimore.
In a recent interview with comedian and radio personality Rickey Smiley, Moore gushed about her engagement to Hill and how they've been friends for quite some time.
"I'm really happy. Finally, I really feel a very peaceful way in my spirit," Moore told Smiley in August. "I really do feel like I can just settle in not settle down because we're flying everywhere, going everywhere, doing everything and I love it."
She added, "We never would have thought this. We've known each other since 1992. He's always been one of my favorite people to run into accidentally and things just kind of changed."
In September 2021, Moore released a gospel-influenced single titled "Right One." She co-wrote it with Eric Dawkins (Chris Brown, Mario, Mary J. Blige). Before that, in 2019, Moore released a standalone track, "Fresh Love."
It's been five years since Moore released a full-length album, The Rise of the Phoenix. Released in September 2017, the album featured Moore's single "Real One," which peaked at No. 10 on the Billboard Adult R&B Airplay chart.
"[The Rise of the Phoenix] is about taking all of the things that have happened and being rebirth and being reborn in excellence and more beauty than ever before," Moore explained.
View this post on Instagram
Last month, Moore celebrated the 30th anniversary of her debut album, Precious.
The gold-selling album includes the lead single "Love's Taken Over," which peaked at No. 86 on the Billboard Hot 100 chart and No. 13 on the Hot R&B Singles chart (now known as the Hot R&B/Hip-Hop Songs chart).
"Merry 30th Anniversary to the album "Precious"; @iamchantemoore debut disc," Hill wrote on Instagram.
"An album that ya just drop the needle on and groove…and disturb that groove only to flip the record over for side B. There are very few albums you put on with 'no-skips'. This is one. Sinewy soul sung by a songstress seducing through sound."
Revisit Chanté Moore's debut single "Love's Taken Over" below.