Board + Pen: Polow Da Don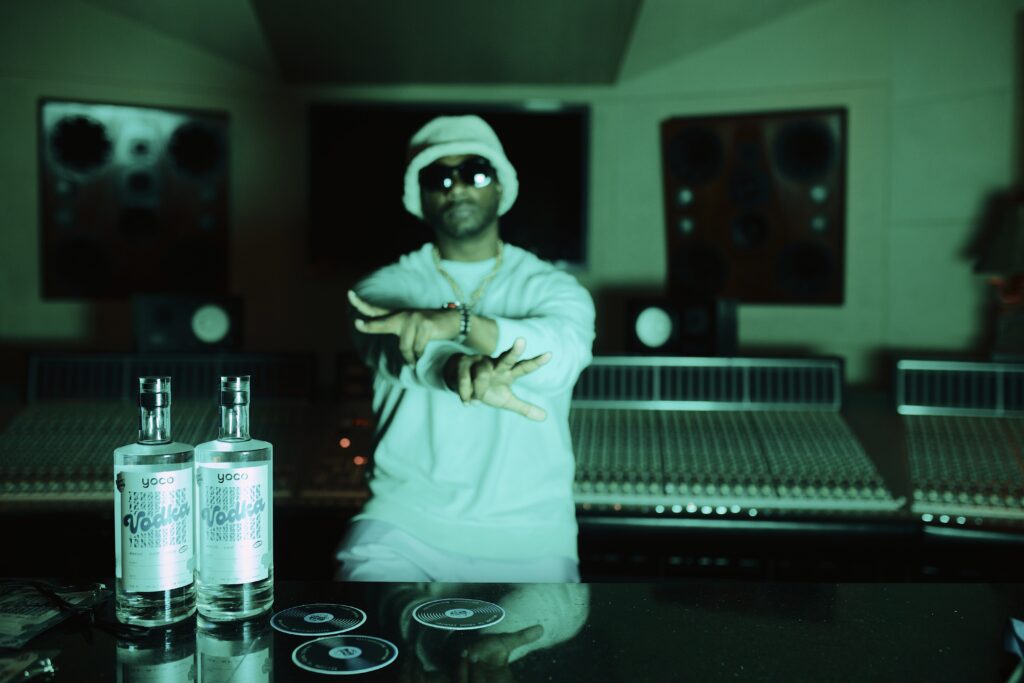 Board + Pen: Polow Da Don
22
Polow Da Don loves to bring people together. The Atlanta, Georgia, native, born Jamal Jones, has produced hits for artists such as Usher, Ciara, Mario, Fergie, Robin Thicke, The Pussycat Dolls, Nick Minaj and more. Yet, he believes his forte is uniting people. "Music is not my gift; bringing people together is," he tweeted one in 2010.
"I've always been a people's person," Polow Da Don tells Rated R&B. While primarily known for bringing folks together through music, Polow has been expanding his reach through other initiatives.
In 2022, he launched YoCo Vodka, named after his Young Country (YoCo) radio station in Nashville, Tennessee. "Obviously, I dedicated my life to music and with music comes lifestyle. With this spirits brand, it just goes with the flow of bringing people together," he explains. "When you have good people who get food, drinks, good music, you can't lose. It's about completing the experience."
Although his liquor brand is relatively new, he is already thinking about what's next in his list of business ventures. "I hope to get into the restaurant business and some type of entertainment — a club or something like that. I love good people. I love beautiful women. I love good food, good times, good laughs, good music. I think that's how you set yourself up for a happy life."
As mentioned above, Polow owns a country music radio station. He says his entry into the country music scene is a natural evolution. "When you have the love and passion for music as I do, and if you do something long enough, you start to see perspectives other than your own perspective," he responds when asked what inspired him to venture into country music. "That's how you continue to grow, get better [and] educate yourself. I always try to break the sound barriers."
Polow has certainly broken sound barriers. He has succeeded across multiple genres, such as R&B, rap and pop. Before he became an in-demand producer, he was a member of the rap group Jim Crow, signed to Noontime Records/Epic Records. The group released two albums, Crow's Nest (1999) and Right Quick (2001).
"When I was a rapper, I was the person that would stay in the studio with the producer when the rest of the group left and helped put the record together," Polow reflects. He had no idea that production would later be his bread and butter until after the group was dropped by their label in 2001. "I'm a producer by nature. I didn't know what a producer was, but I always was able to put things [and] people together that wouldn't necessarily go together and make it make sense."
Polow credits King Edward J, a.k.a The Godfather of Atlanta Mixtapes, for inspiring his production style. "I used to be a huge fan of these mixtapes in Atlanta called the J-Team. I would buy those tapes every weekend. Edward J. would take R&B songs, mix them with rap songs, or take two songs that didn't go together and put 'em together. He had this one series called Pillow Bass, and they would take slow jams and put 808 drums over them. It was the hardest sh*t," reminisces Polow.
He adds, "My style of R&B, I learned that from J-Team and the Pillow Bass series. When I came into the game, it was two things I wanted to do with R&B in particular: I wanted to make it hard and you'd be able to play it in the club, and I wanted to bring back the slow jam.
For Rated R&B's Board + Pen series, Polow Da Don shares tidbits about some songs he's produced.
[embedded content]
Usher – "Love in This Club" feat. Jeezy (Here I Stand)
I envisioned people dancing to a slow song. I was like, "How can I make people dance to a slow song but not lose the energy?" I took EDM, that was on the rise and going crazy at the moment, and took a down-south Atlanta bass music approach and put the two together. It worked perfectly. The lyrics and everything was double time, but the beat was half-time. So it felt like a fast song, but it really was a slow song. The idea was to get people back dancing together to slow music in the club.
[embedded content]
Ciara – "Promise" (The Evolution)
When I was growing up, you had the eighth-grade prom or something. The DJ would be like, "Alright, time to grab a girl, blah, blah, blah." It would actually be a part of the club where they slow the music down and play slow jams. When I made ["Promise"], I was literally envisioning the prom because at the prom you got to have a slow song.
Barry Weiss, who was the chairman of [RCA/Jive Label Group], flew to Atlanta to have a meeting with me to get me to convince Ciara not to put "Promise" out. He was telling me how much he didn't like it and how it wasn't going to work because he [was] getting feedback from his urban department and staff. It worked out for him in the long run.
[embedded content]
Kelly Rowland – "Like This" feat. Eve (Ms. Kelly)
I'm from Atlanta. Bands have always been a huge thing to us. I wanted to be a producer that could change the sound up but still feel true to Atlanta and Black people — but transcends. That beat, which people were calling go-go, had a go-go feel, but to me, it had a Cuban/African-type feel to it. I was always big on drums. That whole beat started out just with the drums. A guy named Blac Elvis came up with the horn line. A lot of my studio sessions are just jam sessions. That's one thing that's dope about that song. It was one of those nights where whether it came out or not, we had so much fun creating it. It's a live band approach. I think that's what gives my music a certain life. That song was that vibe. It was like a party. Sean Garrett is the one that wrote the record. I got a version of the song with Eve because, originally, Eve did the song first. It was a different song, but she did that track first. It was crazy when she ended up not using it. Then Kelly did "Like This" to it and then Eve ended up getting on it.
[embedded content]
Chris Brown – "Forever" (Doublemint Gum Commercial + Exclusive: The Forever Edition)
Obviously, Chris Brown was a performer [and] dancer. He was a young, bubbly, hood dude with pop appeal. He was like the perfect artist. We crossed paths [and] got connected by [his former manager] Tina Davis. Shout out to my boy Steve Stoute. He used to do marketing. He was the guy that tied corporate and culture together through marketing. He did the G-Unit Reebok thing [and] the Jay-Z Reebok thing. He was doing a campaign for Doublemint. He said, "Polow, I got this idea. I think you're the guy. You know the street but understand pop music. What I'm trying to do is hard to do. I want to make a commercial that is disguised as a song." He's like, "Nobody wants to listen to a three-minute commercial, so how can we make a commercial disguised as a song?" What's dope about "Forever" is it wasn't a song that Doublemint used; it was Doublemint's commercial from the jump that we made a song; that's why "double your pleasure, double your fun" is in the hook. It was a commercial the whole time. That was Steve Stoute's idea. They paid me a quarter-million dollars for it. That was my first time making that kind of money off of a track. It was like, "We got to make something that is dance [and] global, but not corny." I think with Chris Brown being who he is, we were able to accomplish all those things.
[embedded content]
Keyshia Cole – "Make Me Over" (A Different Me)
That was one of the first songs [Ester Dean] and I created. When Ester Dean came into my life, my music career changed, to me. She's just so dope and so dynamic. We started to make these new sounds and try these new things because her voice is so unique. Keyshia was always a close friend of mine 'cause I really fought for Keyshia. When I first got to the Interscope building, Keyshia had been signed for a minute but not getting any attention. So I would bring her back to Atlanta and take her out. When we got in the studio, I could just play different sh*t for her that she wouldn't normally do. She's going to tell you how she feels, but in the end, I can get her to trust me to try different things. Keyshia had become really big, but she felt like she was in a box. She wanted to do different things and I would present different things. We began to work again on her stuff and I played the song for her. She just like, "Ah, let's try it." When she got on it, she could really hear herself. We really wanted to make it a single. We was getting a lot of pushback from the urban department.
[embedded content]
Usher – "Hot Tottie" (Raymond v Raymond [Deluxe])
"Hot Tottie" was a defining moment in my career from a business standpoint. We started that record out in Vegas. We worked there for a week. Usher likes to write and if he don't write the song, he at least likes to put ideas down. He always had some type of input. I had never even heard of [a hot toddy] before. That's something he came up with and he explained to me what that was. He kind of freestyled that whole hook and first verse. Me and Ester Dean took it and finished the rest of the song.
What's crazy is it's one of the tracks he didn't use. He overlooked it. About a year later, I was working on Keri [Hilson's] next album. I was going to use it for her — Keri featuring Usher — because I always loved it. I sent it to Usher's A&R. I was like, "Y'all need to do this clearance for Usher." He's like, "Oh man, I just played it in the office. The whole office ran down here into my office. We got to keep that record." I said, "Man, I've been telling y'all about this one for a year, y'all slept on this. I need it for Keri." He's like, "Nah man, we about to put out this repackage for Usher. We need it." We went back and forth. Eventually, I was like, "All right, cool. Usher can use it."
While I'm working on it, trying to get it ready for release, they put Jay-Z on it. When they played it for Jay in the office, he lost his mind. He wrote the verse on the spot. [Ester] Dean's on the record on some vocal parts — couple lines here and there. I was trying to get Keri that part at that time. She was about to do it. The label wanted Ciara to do it and Ciara had done it. But I was like, "I can't do that. I can't take Keri's song and her part." We just kept [Ester] Dean on there because she was in the demo.
As I was mixing that record, everybody would come in my studio like, "Oh my God, this sh*t is crazy!" Dr. Dre started coming over there. They were trying to figure out how to relaunch Dr. Dre. He was like, "This is my single. This got all the elements." So then Jimmy [Iovine] came over there like, "Hey Polow, we need this record." By the way, I'm mixing this inside Interscope Studios. And you got to think, Jimmy invested the most in my career, but I had a lot of hits over on Jive and RCA, which was where Usher, Ciara and Chris was. But Jimmy was the one that really gave me the platform and supported me for real. His whole take was, "Hey man, I'll let you do what you want to do, but we need this. This is me and Dr. Dre." If you know that relationship, you know what that means to him.
I was in this tough spot where everybody was coming to my studio every day. [Diddy] was doing Last Train To Paris, so he wanted the record too. It was just a crazy ass moment. Puff would show up every day, like, "I need that record, man. This is my joint." So anyway, Jimmy was like, "I'm going to give you 250K for it. I'll match any number they put up for it. But at some point, our relationship got to be worth something." I was in the middle of renegotiating my deal too. That's why it was such a pivotal point in my career because I actually made the wrong decision and took the money from Usher. That's my brother, so it's not hate at all. In that moment, I fought so much for Atlanta, LA Reid and Usher that it really changed my whole career. That's how you saw me disappear. It started 'cause "Hot Tottie." In that moment, I should have been loyal to Jimmy and Dre but I chose to be loyal to Atlanta. I allowed my lawyer to manipulate me to do it as a negotiation tactic. It was all the wrong decisions. That was a magical song because of how it was created and all those events that went around it.
Stream our Board + Pen playlist: Polow Da Don below.