6ix9ine's "Finding Nemo" Chain In "GOOBA" Music Video Has The Internet In Tears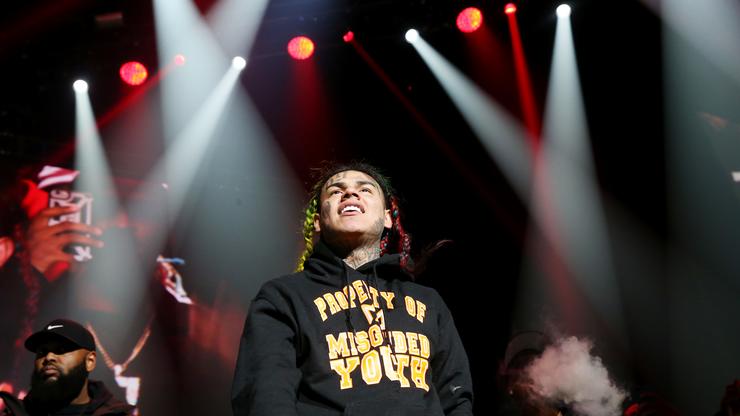 6ix9ine's "Finding Nemo" Chain In "GOOBA" Music Video Has The Internet In Tears
74
Unless you've been living under a rock for the past few hours, you know that Tekashi 6ix9ine made his return to the music scene earlier today by dropping his new single, "GOOBA." He accompanied his first post-prison track with some aptly-themed rainbow visuals, in which the rapper is surrounded by tons of colourfully-clothed ladies, one of which is his girlfriend, Jade. 6ix9ine also conducted his first Instagram live session since his early prison release last month, and while many were focused on the record-breaking live stream, in which he actually explained why he snitched in court, others were too distracted by his new Disney-themed ice around his neck.
The "GOOBA" visuals open with an animated, rainbow shark chomping down its sharp teeth, which diehard Pixar fans will recognize as Bruce from 2003's Finding Nemo. It looks like 6ix9ine's a big fan of Bruce, since he even had a diamond-encrusted chain made of the Disney character. 6ix9ine holds up the flashy jewelry at one point, mimicking the shark's wide, menacing smile.
Image Youtube
Bruce also appears as a painting on the wall in the visuals, as well as on 6ix9ine's yellow hoodie in some of the shots. Perhaps the Disney shark will serve as 6ix9ine's new mascot?
Image Youtube
Regardless, some keen observers noticed that this wasn't just any shark, and proceeded to lose it over the diamond pendant.
Some even pointed out the implications of 6ix9ine repping the blood-thirsty character, who abandons his "Fish Are Friends Not Food" position as soon as he smells blood.
What do you think of his new ice?