11 Albums You Might've Missed In 2021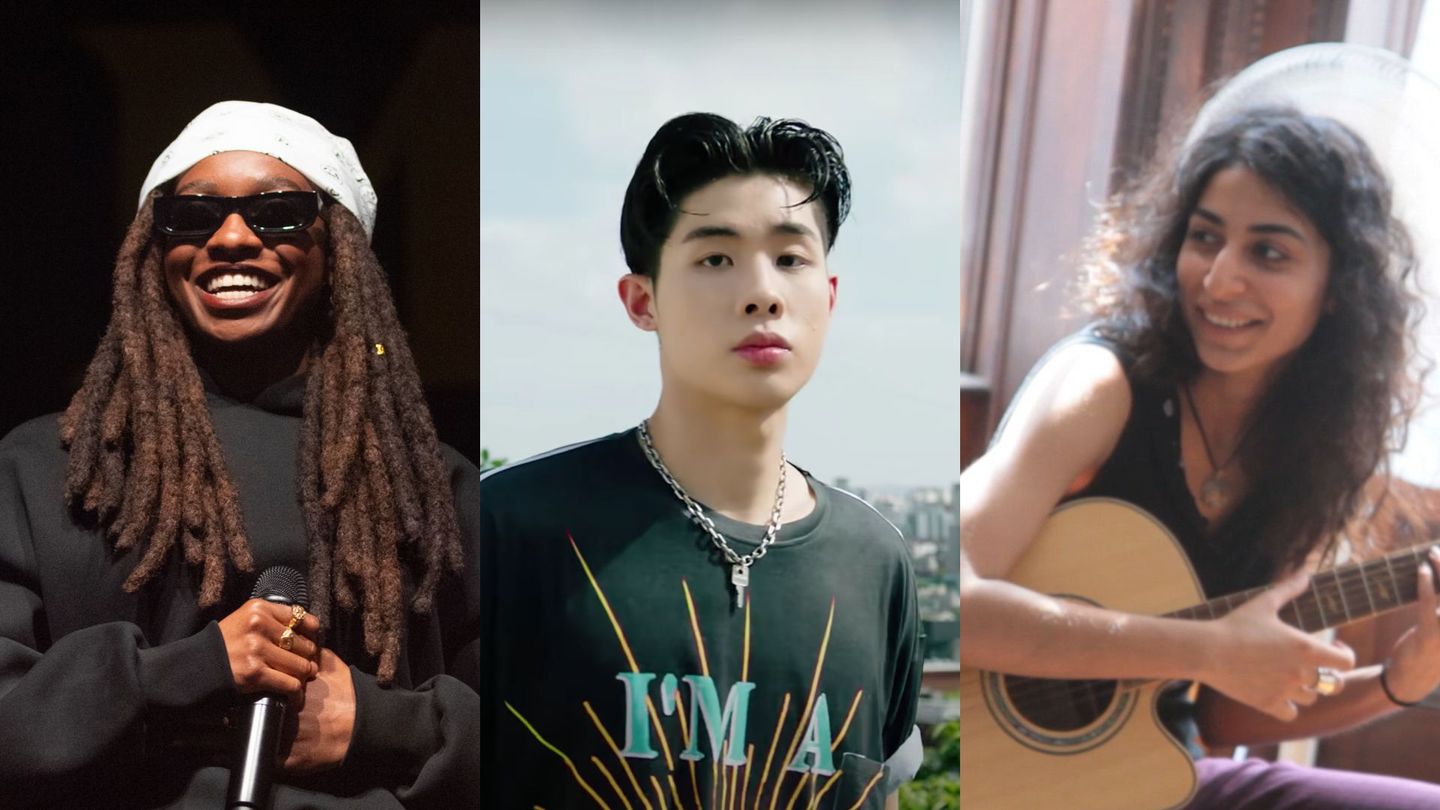 11 Albums You Might've Missed In 2021
36
Another year plagued by both hope and uncertainty. Another year soundtracked by artists trying to process the same.
Throughout 2021, we kept up with the biggest music releases every Friday, becoming Certified Lover Boys and good denizens of Planet Her. We felt both happier than ever and sour in equal measure. We processed a lot of strange feelings we've unfortunately come to know all too well.
But in between, we fell in love with some other favorites, ones that soundtracked the more ponderous or quieter or brasher or more symphonic moments that made 2021 the year it was. You might've missed them, but in time, maybe you'll come to love them, too — or maybe you already do. As MTV News did last year, here are the 2021 albums that made sense to us.
Little Simz: Sometimes I Might Be Introvert

Disclaimer: If you missed this one, you probably weren't paying attention. The 65-minute sprawling multi-genre opus from London rapper Simbiatu "Simbi" Abisola Abiola Ajikawo, a.k.a Little Simz, ranked high on several year-end lists, and its bombastic and probing opener "Introvert," got a big boost soundtracking a grandiose Civil War combat scene in the final season of Dickinson. It's easy to hear why it works. To begin the epic suite, Simz lets huge brass and marching-band snare drums set the scene. When she enters spitting bars a minute later, she paints a portrait already hinted at by the action-ready musicality: "There's a war inside, I hear battle cries," she says. For the next five minutes, "Introvert" does everything it can to undermine its own title: Even as she ruminates ("I sabotage what we are trying to build / 'Cause of feelings I keep inside"), Simz emboldens herself to speak as loudly as she can ("But it's time to reveal"). And this is just track one. From there, the album dips into silken R&B ("Woman"), vintage grooves ("Standing Ovation"), pop-single dominance ("Speed"), and a series of interludes that actually justify the ever-expanding runtimes of albums in the streaming era. Sometimes I Might Be Introvert, Simz's fourth album, is an undeniably British one — there's even an interlude called "The Rapper That Came to Tea" — but its message is universal and transatlantic. Its imposing, highly orchestral sound is designed to fill concert halls wherever Simz might travel. —Patrick Hosken

JMIN: Homecoming

"Everywhere I go, I just feel so trapped," JMIN states at the top of his debut EP's opening track. "I been really fucked up / I can't go back." The desire to look forward, find freedom, and in the process find himself is the red thread of the K-hip-hop newcomer's debut project, Homecoming, an electrifying snapshot of the life of a young artist on the rise as he searches for balance between past and present, mind and matter, and home and homeland. "I used to bе nothing, I only caused trouble / Mama, I'm sorry I caused you this pain," he admits on "You and Me." "I'm gеtting the money, it's coming in bundles / Remember those days I would sit in the rain?" In a brief 18 minutes, Homecoming packs a strong punch. Effortlessly ebbing and flowing between topics such as mental health ("Don't Worry"), ambition ("Dedication"), love lost ("Tryna Find Your Love"), and success found ("Want Me," "Wave"), JMIN expresses the messy, complicated, ever-changing feelings of a 21-year-old just trying to figure his shit out, and he does so by putting pen to paper. At the crux of its being, his music is just that: storytelling. Homecoming tells the beginning of JMIN's story with clarity, brevity, and a whole lot of dedication. —Sarina Bhutani

Arooj Aftab: Vulture Prince

Vulture Prince opens with "Baghon Main," a reinterpretation of a folk song Brooklyn's Arooj Aftab first recorded for her 2014 debut album, Bird Under Water. Where the Pakistan-born composer's earlier rendition was a sprawling arrangement of groaning accordions and drum flashes, this update is stripped of its more decorative embellishments, down to soft violin cries, twinkling harp, and Aftab's precisely sustained intonations. It's a haunting touchstone for a sublime collection of sparse tracks that have been hollowed out by grief. Named for a Parsi funeral rite where bodies are left out to be consumed by scavengers, Vulture Prince is dedicated to Aftab's younger brother Maher, who passed away while she was recording the album. Yet in its minimalist attention to detail, there are occasional moments of surprise that surmount the mournful tension, as Aftab pulls elements from Western jazz and the traditional ghazals of her homeland; a Rumi love poem, for example, finds an unlikely home atop a reggae beat on "Last Night." Lingering throughout is the meticulous intensity of Aftab's voice: Even when singing about a sadness so great it could swallow the stars ("Mohabbat"), she gathers the strength to move forward. —Coco Romack

Inhaler: It Won't Always Be Like This

On "My Honest Face," 22-year-old Elijah Hewson is troubled in speaking his truth. He's listing excuses as to why, but one feels most accurate: "There's just a certain culture when you're young." It's a cheap, boyish cop-out, but it's also not; there is a certain weightlessness to being young and freewheeling life, before you realize just how capable you are of harm, to others and to yourself. "Why does it hurt me so much?" he questions on "Totally," begging of a failing relationship. It's like the pain is happening for the first time, like you've realized that life isn't so weightless anymore. But Inhaler's It Won't Always Be Like This, a loud, raucous indie debut, also knows that sometimes, you just have to let shit go — that the heart-tearing cycle of losing and finding yourself gets better with time. The album's best track, "Who's Your Money On (Plastic House)," is a shameless ask for a second chance after a full ego death. "I'll put myself on the line," Hewson proclaims, admitting he wasn't ready the first time, still knowing their "plastic house is built on sand." It's boldly asking, even when the thing is doomed to hurt, to try again anyway. —Terron Moore

Jodi: Blue Heron

"Does this party stress you out?" Nick Levine asks near the beginning of Blue Heron, the debut LP from their rootsy and earthy Chicago project Jodi. It fits: Blue Heron is a spare album. Broadly speaking, its 12 rustling tracks fall into the minimal country/folk categories, and ghostly pedal steel drifts in and out of frame like a swaying bough. The mood Levine operates in will be familiar to fans of their former band Pinegrove and the work of Phil Elverum. What this collection requires isn't so much patience but stillness — an attempt to quiet yourself to receive what singer-songwriter Levine presents in pastoral songs titled "River Rocks," "Hawks," and the gorgeously unspooling title tune. The reward is a singular voice spanning the ache of all four seasons ("It's wintertime / Time to see all your buddies / Where'd everybody go?"), the perils of purely feeling low ("Tonight I'm a slug / Lay around and get stepped on"), and requests that might as well be directed at the world at large ("Can we go slowly?"). On the lean Blue Heron, small moments quickly become events: A fuzzy guitar chord sounds like a thunderclap, and natural imagery — "Great blue heron in the lake swimming" — is rendered in crystalline clarity, like the massive bird tattoo on Levine's back that marks the album's cover. —Patrick Hosken

Vince Staples: Vince Staples

On Vince Staples's dreary, drawling fourth album, all his friends are dead or in jail. So he's obsessed with own demise: His city burns, shots are always ringing out, and no amount of money, sex, security, or faith can satisfy the looming threats. "I could die tonight, so today, I'ma go get paid," he decides on "Sundown Town." The idea that Staples is a world-famous rapper is irrelevant. He's still from Compton; we are always and forever products of our environments. Opener "Are You With That" masterfully mixes the inevitability of death with the guilt of survival, but maybe he states it most simply on "The Shining" when he says, "We dying broke and live with broken hearts." These realities of growing up in this concrete jungle aren't to be glorified, nor are they to be pitied. They just are. And maybe there's sadness in that resignation, but there's strength in it, too. —Terron Moore

Cassandra Jenkins: An Overview on Phenomenal Nature

Clocking in at just under 32 minutes, An Overview on Phenomenal Nature proves you don't need a Red (Taylor's Version) running time to pack an emotional punch. Always leave your listeners wanting more; that's exactly what Cassandra Jenkins accomplishes on her second album. The seven songs are cold yet cozy, familiar like a heartbreak. The third track in the collection, "Hard Drive," which best sums up the album's mood, serves Suzanne Vega vibes with its spoken-word storytelling and meandering, sparse, jazzy sound. The closer, "The Ramble," is an aural Xanax — serene yet sweeping, perfect for a solo winter hike through nature or as the soundtrack to a Terrence Malick movie. The song ends with birds chirping, welcoming a new day, reminding us, as another stressful year comes to a close, to look to the sky, and as Jenkins suggested on "Hard Drive," to close your eyes and "just breathe." An Overview on Phenomenal Nature is indeed phenomenal. —Chris Rudolph

Huron John: Cartoon Therapy

At the center of Huron John's sophomore effort Cartoon Therapy is noise — beautiful, blinding, and baffling noise. With synthesizers, vocoders, and kitschy samples at his disposal, the Chicago-based indie artist blends an expansive base of musical influences – including Tyler, the Creator, whom he shouts out on "Trapped in a Lava Lamp" — to make music that speaks to the internet generation. His new record finds its lyrical roots in quarantine, heartbreak, mental health, youth, and nostalgia, living at the intersection of what it's like having to exist lost in all of the above at all times. Opener "Common Ground" sets the tone with a deceivingly chill beat supporting self-deprecating jabs before he quickly assures us, "I'm alright" on the groovy "Huron Disko" (which begs the question: "Do you think that Harry and Draco ever tried to stop the beef?"). He has his crying-at-the-party moment ("Troy Bolton"), goes existential on "Cosmic Opera (Death Is Not the End)," gets lost in a disco memory on "Arthur," and finds closure on "Children of the Sun," never forgetting his tie-dyed, neon-soaked lens. All I've got to say is, "Yo, Huron! Did you have to go that hard?" —Carson Mlnarik

Parannoul: To See the Next Part of the Dream

The underground sensation surrounding Parannoul has been stoked in part by the indie Korean artist's bid to remain mostly anonymous. One story is that they are a student living in Seoul, making crunchy shoegaze late at night from their bedroom, though they've disclosed little else in faceless interviews or musings published to Bandcamp, where their lo-fi music was shared before going wide on streaming platforms earlier this year. The gaps in their biography might be filled by To See the Next Part of the Dream, their dreamy sophomore collection, which was written about an "active loser" who aspires to be a rock star, despite the fact the 21-year-old character can't sing or play guitar. An insecure delivery feels apt for a narrative like this; the atmosphere Parannoul conjures is all haze and mist, with murmured, paired-back vocals like a shy instrument within the sweltering noise. They mumble hopelessly about youth wasted, as on the standout opener "Beautiful World," but it's easy to lose yourself in the analog textures between the fizzing guitars and math-rock drums, the background chatter and the nostalgic rumbling of train cars, just as it can be tempting to give in to melancholy. The sounds here may be unknowable, but the themes are well-trodden: the emotional pulls of youth, the pain of wanting something more. —Coco Romack

PinkPantheress: To Hell With It

If 2021 really was the year when we couldn't stop looking back, consider 20-year-old London artist PinkPantheress an emissary for time travel. Nostalgia is one of her most potent weapons, and on a typical song, she pulls a snippet of something from the past — say the twinkly guitar part from Linkin Park's "Forgotten" — for a minute or two of sheer celebration. Consider it a digital bath, a sonic immersion in a familiar sound tweaked just enough to give it new relevance. She doesn't linger; the songs are over before the reference point becomes stale, and her gentle vocals are the perfect vessel for the soft ache of her lyrics ("I'm obsessed with you in a way I can't believe / When you wipe your tears, do you wipe them just for me?"). Part of the formula for her success is this brevity of form (unsurprisingly, her music traveled far on TikTok) and the fact that To Hell With It, her debut mixtape, requires only 19 minutes of your time to fully experience it. But across its brief runtime, the collection's excursions into jungle, drum and bass, and other glitchy and beloved British subgenres help propel it out of the realm of novelty to become transformational. The nostalgia is real — the cover art for "Passion" is the iconic Windows XP rolling landscape background — but these songs are not gimmicks. Even as she evokes indelible '90s house landmarks, PinkPantheress sounds like no one else. —Patrick Hosken

Mariah the Scientist: Ry Ry World

"Who's your favorite girl?" Mariah the Scientist asks at the close of Ry Ry World's first track. Then: "I wish I could be her." This longing to position yourself closer to someone openly doing you wrong is the crux of her second full-length album, a brisk 28 minutes of spacey synths and twittering trap drums as she floats through a galaxy of undeserving men, seeking a safe place to land. "And I dream to be a fool," she wails on "RIP," one of the only times her voice rises above humble self-contemplation, "that way you wouldn't know that I knew what you do." She considers every option: debating her motivations on "Brain," finding new fuckboys on "Walked In," murdering her ex on "Revenge." But the through-line is the loneliness of struggle love, the isolating feeling of not being enough, the vital need to feel a little more respected and a little less alone. Ry Ry World is often trying to accept pain as romance, but on "2 You," she's burying the past to find her own peace. "Look at what we made," she sweetly declares of the wreckage, perhaps to him, but mostly to herself. "Sure was beautiful." —Terron Moore